UPVC Case Study
Told by Insurer that the lock was not covered and fault was "wear and tear"
Letter prepared by Actfast Locksmiths for the Customer and sent to insurer.
Tom,

No problem at all. This system should not fail under normal usage. In fact it is among the younger systems we encounter.

Our findings upon arrival and required actions to rectify the problem were as follows:

The property at (Address witheld) Rear door was jammed in the locked position
After use of specialist tools we opened the door.
We removed the GU Multi-lock system.
Upon inspection we found that the system had jammed due to a broken internal part of the central gearbox.
Probable cause of failure in my opinion was due to unintentional force while lifting the handle to activate the system when top and bottom hook bolts were not properly aligned. This is a common fault.
We can confidently state this was not due to normal wear and tear. We have left the old unit on-site for inspection by loss adjusters should this be a requirement of your claim.
We replaced the unit with an insurance compliant multi-lock that correctly retro-fitted the old unit.

Should your insurers require further explanation regarding the findings at your home they are welcome to contact Actfast Locksmiths direct on 01787 477513 or by email, info@actfastlocksmith.co.uk .

To support my summary, Actfast Locksmiths are a Master Locksmith Association Approved Company. I am a fully qualified Master Locksmith. We are also accredited as the only North Essex Locksmith that is Essex Trading Standards Approved. We hold a full CRB check. Our Business is Police recognised and we are used extensively by various Police Crime Reduction Officers and alarm Companies.

Your insurers can also visit our website: www.actfast-locksmiths.co.uk they will find links to yell.com reviews or The Master Locksmiths Association www.locksmiths.co.uk

I look forward to hearing the outcome of your claim, however if you have any further questions please do not hesitate to reply by email or contact me on 01787 477513. I can pass on any unresolved claims to the MLA for further advice.

Kind regards

Graham Cooper B.L.I.

Master Locksmith
Actfast Locksmiths
Halstead
Customers claim upheld and paid in full!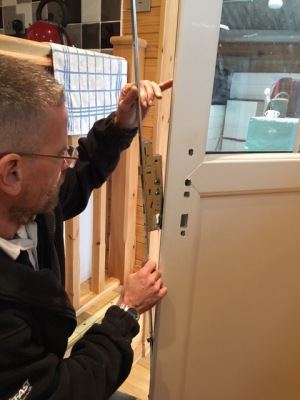 Google Review for UPVC Failure 18/02/16
A very good professional service from Graham and Sue. The gearbox on my UPVC door had broken (yep I forced the door shut when it was sticking) leaving the door fully locked and unable to open it! Graham quickly unlocked the door and was able to replace the broken gearbox using parts he had 'on board'. He also upgraded my barrel locks at my request and at a very reasonable price. Much cheaper than a new door and with no need to damage the door or frame. Now Graham has aligned the hinges he has cured the sticking! I will be using again if I have a need for a locksmith. Thank you.


It always pays to use qualified experts to provide a service that does more than simply replace a lock.
As an MLA Approved Company we are proud to contantly strive to maintain and develop the skills and expertise required to handle any situation that may arise with upvc or composite doors with multi-locking mechanisms as they evolve
Recently these lock types have become modular where in many cases you do not require the expense of a complete replacement system but simply repair or replacement of a far less expensive component part